MapOnAStrap
MapOnAStrap displays the best maps available on the Apple Watch. It provides the same vector-based drawing and ease of use as the in-built Apple Maps app, but with many extra features, including auto-rotation to match direction of travel.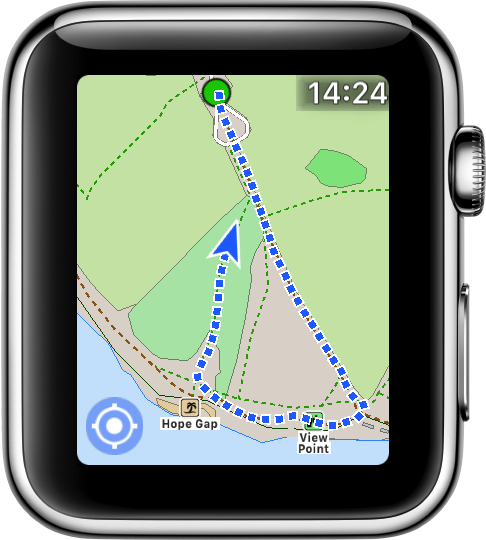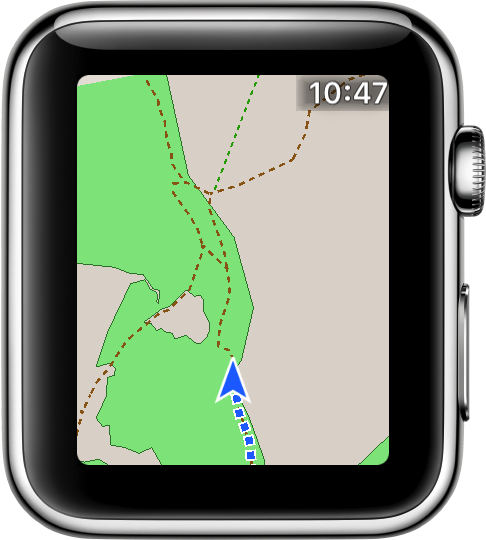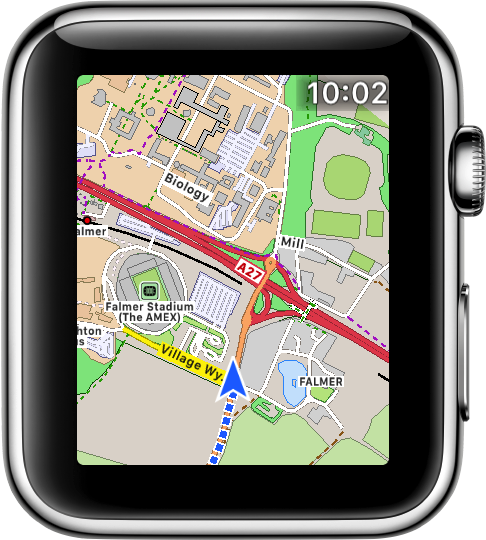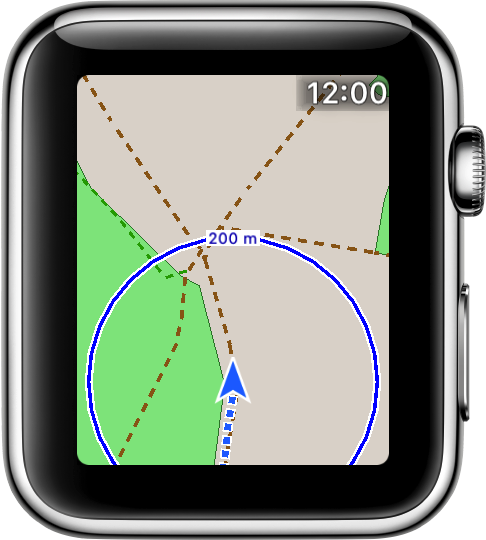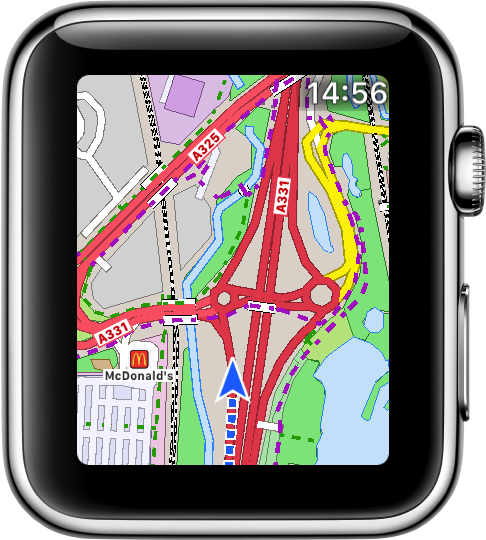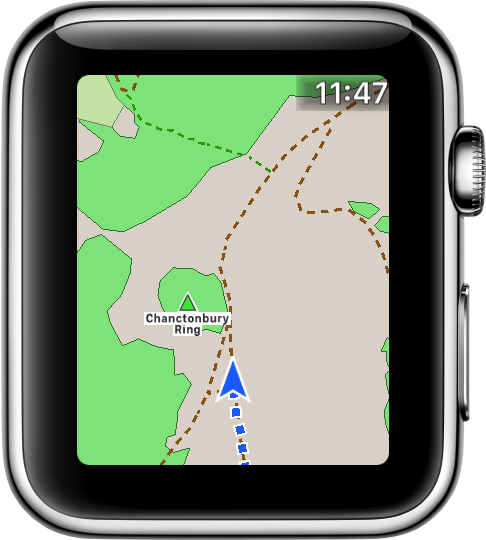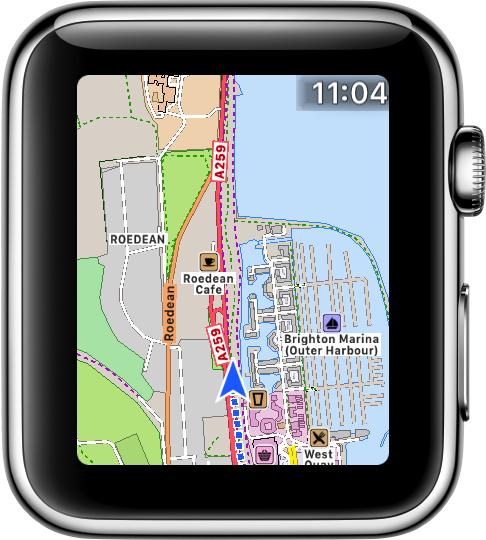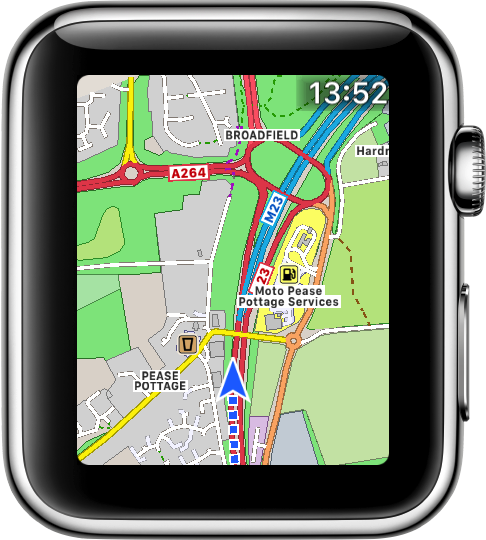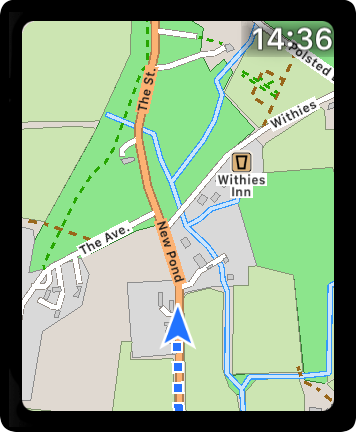 Outdoor Activity Map
The map has been custom-built for the Apple Watch, with colours that are clearly visible even in bright sunshine.
The map uses OpenStreetMap data, which includes paths, cycle trails, ski pistes and much more.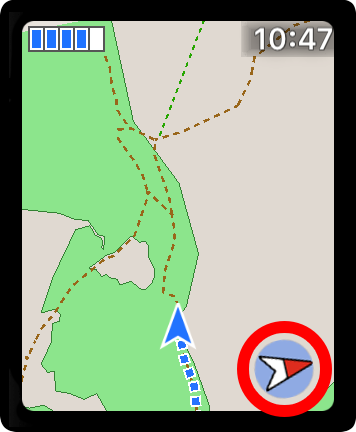 Auto-Rotation
The map can rotate to match the direction of travel. When in this mode the GPS location is shown below the centre, to show more detail ahead than behind.
The optional red compass points towards the north. Tap it to turn auto-rotate on or off.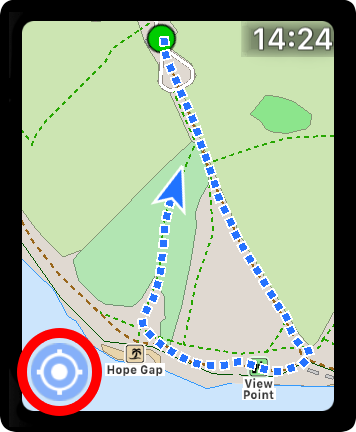 GPS Trail & Tracking
A series of blue dots marks out your whole route. The dots are grey where the GPS signal was poor.
If you pan away from your location, then a Tracking button appears in the bottom left. Tap it to resume tracking.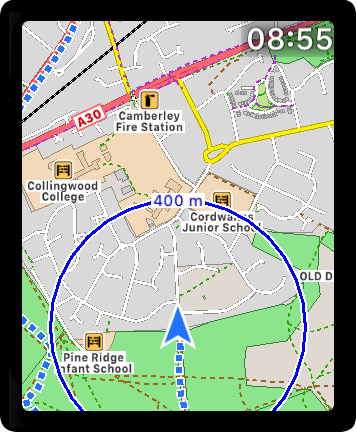 Zooming & Panning
You can use your finger to pan across the map in any direction.
You can zoom in or out by using the digital crown. A scale is shown as you zoom, making it easy to determine how far away points are.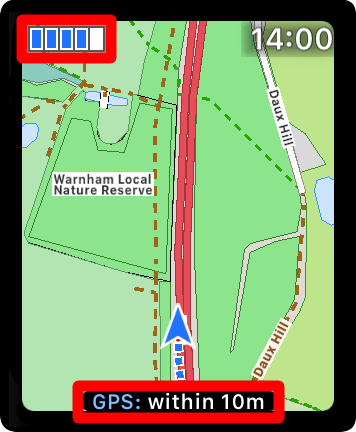 GPS Signal Strength
The GPS Signal strength indicator is shown in the top left corner. Double-tap that area to hide it or display it again.
Single tap the indicator to show the exact GPS accuracy at the bottom of the screen.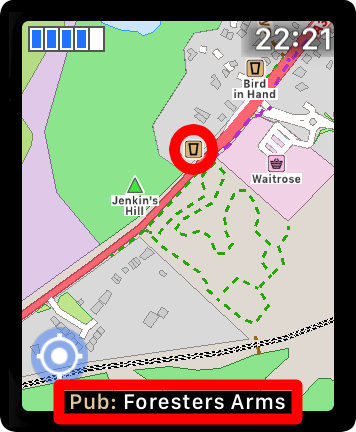 POI and Road Names
You can see more information about POIs or road names by simply tapping them.
The type and name of the POI, or the full name of the road, is then shown temporarily at the bottom of the screen.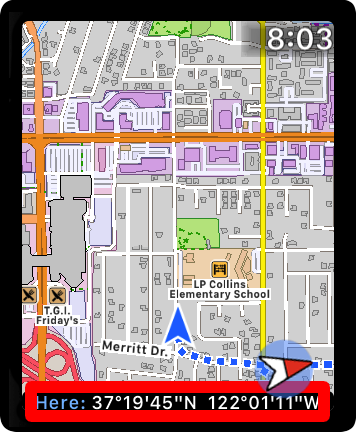 Loads of Other Features
There are loads of other features available by tapping or double tapping items.
Tap the GPS arrow to see the latitude and longitude. Or tap the time to see it in full, with seconds. Double tap controls to hide or reshow them.
WorkOutDoors
If you want even more great features then please consider getting WorkOutDoors. This app uses the same great maps as MapOnAStrap, but also displays them during workouts, such as when you are hiking, running or mountain biking.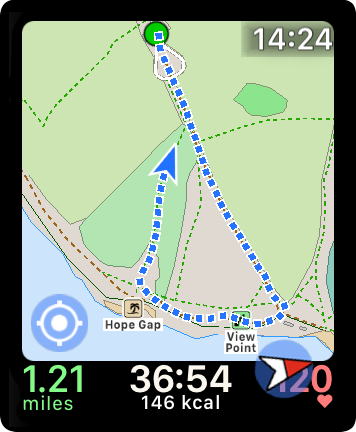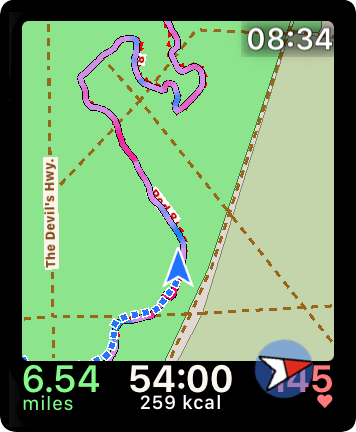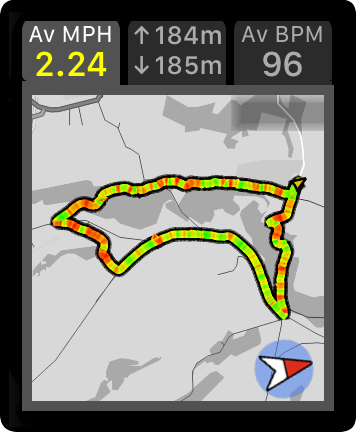 WorkOutDoors also allows map areas to be stored on the watch for use when there is no signal. If the watch has GPS then you do not even need your iPhone!
GPX routes can also be imported to help aid navigation. They are shown on the map using colours to indicate the gradient: red for uphill and blue for downhill.
Check out the website for more details, or click on the App Store icon below.